The All-In-One Fundraising Event You've Been Looking For!
Raise thousands of dollars* for your organization in just one night!
FINALLY A FUNDRAISING EVENT YOU WANT TO DO!
And people will have so much fun they'll be asking when you're doing it again.
What is a trivia night?
Trivia nights are something that have cropped up all over the country, but maybe you've never heard of them or don't know what they are. Typically, trivia nights are an opportunity for friends to get together around a table at a bar or restaurant and compete against other tables to see who knows the most about random bits of trivia. At the end of night the team who gets the most questions right wins!
These community centered events are popular with people of all age groups because of their unique combination of fun, competition, conversation, and teamwork. You don't have to be a trivia pro to attend, host, or benefit from a trivia night. You just need a venue, a set of questions, graphics to promote it, and a little help to put it together…and we have done most of that work for you.
DOES IT REALLY WORK?
Yes! We've tested it with organizations all over the country!
This event kit combines decades of in the trenches fundraising knowledge with the practical tools to you need to cast a vision, create buy in, create a buzz, and to advocate for your ministry with minimal effort on your part.
IS IT EFFECTIVE?
Yes! We've raised up to $10k on a single night*!
Over the past four years, organizations using are trivia night resources have consistently raised $3,000 to $10,000 with a very small investment of time, resources, and volunteers.
IS IT EASY TO PULL OFF?
Yes! We've done the hard work, so you don't have to.
Our team believes that you need to respect your time and the time of your team. Our focus in putting this kit together was to save you time and energy while increasing the amount of money you are bringing in.
*Obviously we can't guarantee results, but our trivia night resources have helped raised OVER A MILLION dollars for organizations, and we think it will work for you too!
"I put together this event kit because I hate fundraising – but I love my ministry, and I love trivia nights."
TONY VASINDA
Original Creator of TriviaFundraiser
Stop doing fundraisers that exhaust your team.
Stop doing fundraisers that bore your community.
Stop doing fundraisers that you have to beg people to attend.
Stop doing fundraisers that don't make enough money.
TRIVIA FUNDRAISER IS AN EASY, FUN EVENT THAT PEOPLE WILL BE ASKING YOU TO DO MORE OFTEN! AND YOU'LL MAKE THOUSANDS OF DOLLARS IN A SINGLE NIGHT!
WHAT'S INCLUDED?
Here's a quick look at what you get when you purchase this resource.
NOTE: Not all features are included in all package levels.
Powerpoint Questions
Unlike other paid quiz games, our questions are already placed on beautiful slides and ready to go. Ten rounds: ten questions and a new category with each round.
Social Media Graphics
In order to help you get the word out, we've created a basic social media kit for each one of the trivia night brands.
Event Checklist
This checklist is designed to help you lay out a clear plan and track the progress of your event. This is a much needed tool to help you cast a clear vision and get buy in for your event.
Scorecards
Easily printable scorecards for teams to fill out each round. Simple black and white design so they you can run off as many copies as you need!
Great MiniGames
Graphics and rules for some of our favorite MiniGames that can be played during your event. MiniGames are great because more winners means more people who can't wait to come back.
Scorekeepers Guide
Everything your scorekeepers need to know condensed on to a single printable page. This single sheet of paper goes a very long way in keeping your night running smoothly.
Tally Sheets and Answer Key
These printable tally sheets make it easy to keep track of all the team scores throughout the night, and the Answer Key makes it super simple for your scorekeepers to check answers each round!
Table Instructions
Beautifully designed printable cards for you to put on every table to explain the basic rules of your trivia night – and answer frequently asked questions. Available in both full color and black and white.
Choose Your Questions
You'll get to choose from FOUR VOLUMES of trivia packs based on the categories included in each volume. Pick the volume you think your community will like the best!
Mistakes to Avoid
After running this event several times, we've put together a list of the top five mistakes for you to be sure to avoid.
Evaluation Forms
Post event forms for you to use with each of your teams to evaluate the event and plan for an even better fundraiser next year!
Step by Step Walk Thru
We'll take you through the event step by step to make sure you have a full grasp of each step of running the perfect fundraiser – even if you've never been to a trivia night before.
Team Awards
The truth is: people love to win. You might only have one "big winner" for the night, but we've got awards you can give out to three other teams to help spread out the fun. (Plus winners give more money!)
Money Maximizer
We've been doing Trivia Fundraisers for years, and we've learned a few tricks to maximize the amount of money you can make. We've pulled together our best tips in a quick-read PDF.
Customizable Graphics
All of the social media graphics, posters, flyers, and postcards are available as fully editable Photoshop files.
Printable Graphics
We've designed beautiful (customizable) posters, flyers, and postcards to help promote your trivia night around the community.
More Digital Graphics
You'll get even more social media graphics for you to share digitally across the web.
Discounts on New Volumes
We release new volumes of trivia questions every year, and you'll be able to buy those new question packs at a huge discount!
Volunteer Plan
Our step by step walk thru helps you build out the perfect volunteer team. It even breaks down exactly how many volunteers you need and what roles you need them for!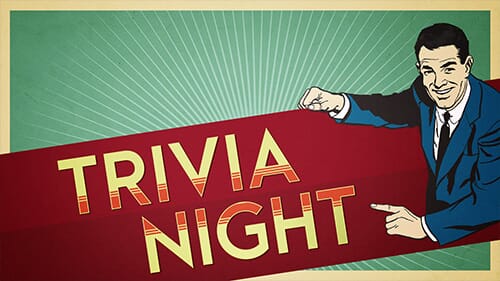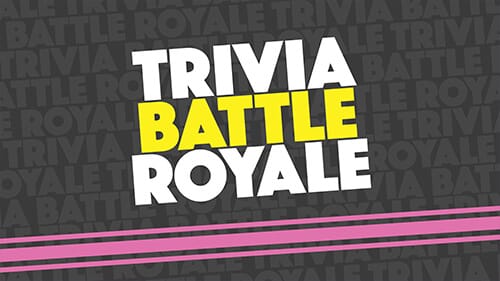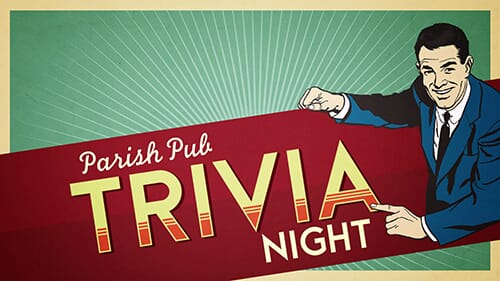 "Trivia Night has been the highlight of our church's spring for the past two years. The only question that the church council has had for me after the night is if we're doing one or two trivia nights next year! We've collected about $8,000 the past two years with this fundraiser and can't wait for next year!"
BRIAN BAUDOIN
St. Mary Magdalene Catholic Church
Lite
7 Rounds of Questions on PowerPoint Slides

Event Checklist

Scorecards

Evaluation Forms

Scorekeepers' Guide

MiniGames

Choose Your Questions

Table Instructions

3 Brand Packages

Social Media Graphics

Printable Graphics

Customizable Graphics

Team Awards

Money Maximizer

Volunteer Plan

Discount on Future Packs

Step by Step Walk Through
Standard
10 Rounds of Questions on PowerPoint Slides*

Event Checklist

Scorecards

Evaluation Forms

Scorekeepers' Guide

1 MiniGame

Choose Your Questions

Table Instructions

3 Brand Packages

Social Media Graphics

Printable Graphics

Customizable Graphics

Team Awards

Money Maximizer

Volunteer Plan

Discount on Future Packs

Step by Step Walk Through
Premium
10 Rounds of Questions on PowerPoint Slides*

Event Checklist

Scorecards

Evaluation Forms

4 MiniGames

Scorekeepers' Guide

Choose Your Questions

Table Instructions

3 Brand Packages

Social Media Graphics

Printable Graphics

Customizable Graphics

Team Awards

Money Maximizer

Volunteer Plan

Discount on Future Packs

Step by Step Walk Through